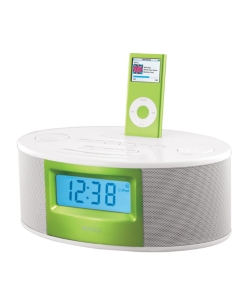 The
HoMedics iSoundSpa(tm) Clock Radio with iPod Docking Station
is as handsome as it is functional.I'm really not a fan of a lot of the docking stations – they're kind of homely. But the one above is from Macy's and is a modernistic hottie.
From the web site:
Wake up to the tunes you choose or just rock out loud any time you want. Customizable with interchangeable faceplates to match your iPod®, this stylish clock/radio and docking station plays music with amazing sound clarity as it charges your iPod and displays the time on its large digit LCD display. One-year limited warranty. Model SS-6500.
Features:
AM/FM radio with digital tuning and volume control
Line-in allows you to attach non-docking iPods, CD players and other MP3 players
Universal inserts fits all docking iPods
Dual alarm with snooze feature
15, 30, 45 or 60 minute nap feature and auto-off timer
Take a good, long look at the HoMedics iSoundSpa(tm) Clock Radio with iPod Docking Station
– it's a lot less than you'd expect it to be, too. That, of course, only adds to it's appeal.